Godiva Festival: Coventry residents vote to keep park venue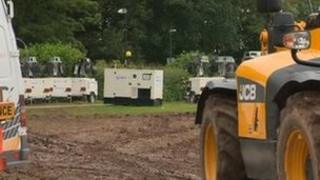 Residents in Coventry have voted for the annual Godiva Festival to continue to be staged in the War Memorial Park.
The annual free event was cancelled last summer because of muddy conditions in park, at a cost of about £450,000 to the city council.
The authority asked the public to choose between the park or city centre as the venue for the three-day event.
More than 21,000 voted on the council's website, with 62% voting to keep the festival in the park.
John Mutton, the council leader, said he was pleased there was so much "passion and enthusiasm" for the festival, which has attracted more than 100,000 visitors in previous years.
The event has been staged at the War Memorial Park for the past 15 years.