Pancake races in Warwick town centre called off after snow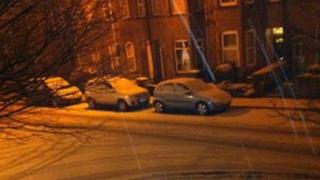 An annual pancake race in Warwick has been cancelled after snow and predictions of freezing conditions.
Rotary Club of Warwick said it had been expecting 23 teams from four primary schools to compete in the annual event, in Market Square on Tuesday.
Rotary organiser John Fletcher said it had called off the event as "we could not be sure everyone could be safe and enjoy the day".
Flood warnings remain in place for parts of the Rivers Leam and Anker.
The Environment Agency has issued warnings for the River Anker at Mancetter, Witherley and Atherstone as well as at Grendon and Bradley Green.
Warnings have also been issued for the River Leam at Leamington and at Eathorpe, Huningham and Offchurch.
Hazardous driving conditions were earlier reported on the A4053 ring road in Coventry due to snow and ice.
Up to 3cm (1in) snow fell in parts of the county overnight on Sunday. The Met Office said there was a 20 to 40% chance of light snow on Tuesday.