Whitley incinerator to heat Coventry city centre buildings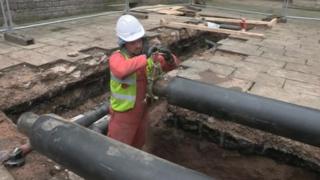 Work has begun on a scheme to heat buildings in Coventry city centre using warm air piped from an incinerator.
The burning of rubbish at the Whitley incinerator will be used to heat nine buildings including the cathedral, the council house and Herbert Art Gallery.
More than four miles of underground pipe work is currently being laid for the project, due to start in September.
Andy Williams from Coventry City Council said: "The scheme has environmental and financial benefits."
He said: "Energy bills are going up and up, with this we've got some level of price security.
"Bills will still go up with inflation but it doesn't have the volatility of gas prices, and environmentally we're meeting carbon commitments because the energy is zero carbon."
Tackling fuel poverty
The scheme is being paid for with £2.2m from a Housing and Communities Agency grant and £3.2m from contractors Cofely, who will run the scheme.
The council, as well as the cathedral and gallery, will pay Cofely a monthly bill for the energy they use over a 25-year contract.
Canon Tim Pullen said the cathedral, which was built in the 1950s, was "notoriously difficult to heat" because of its floor space and lack of insulation.
He said: "Obviously energy bills are going up and like everyone else we're subject to the vagaries of the market so we're hoping this is going to give us a more consistent and lower cost basis to heating."
The council said it planned to extend the pipe network in the future to heat people's homes.
Mr Williams said: "By connecting to residential properties and linking with social landlords, we'll hopefully be able to reduce heating bills and tackle things like fuel poverty more effectively."