University Hospital Coventry cancels operations due to patient rise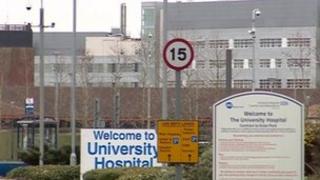 A hospital in Coventry has cancelled non-emergency operations and outpatient appointments until next week because of "significant winter pressures".
University Hospital Coventry said it had seen a rise in the number of patients needing specialist treatment and had struggled to free up beds.
The trust said it was contacting people affected by the cancellations.
Chief operating officer David Eltringham said winter often led to a "challenging time" for the NHS.
"Our contingency plans are in place to make sure that we can deal with situations just like this one," he said.
"The trust is working closely with local clinical commissioning groups, GPs and West Midlands Ambulance Service to ensure emergencies continue to be prioritised and receive the urgent care they need."
He said the hospital's accident and emergency unit had also been dealing with patients who could be treated at GP surgeries or walk-in clinics.