Defence Medal for ex-Warwickshire auxiliary firefighter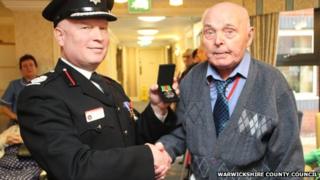 A former auxiliary firefighter from Warwickshire has been honoured for his services to the area during World War II.
Lionel Clarke, 99, received the Defence Medal for his efforts during the war which included assisting others during the Coventry blitz.
"I don't deserve the medal," said Mr Clarke. "I just happened to be there.
"I felt it was my duty."
Mr Clarke was a toolmaker at the Brown's Lane shadow factory in Coventry, which would later become the home of Jaguar cars.
'Never frightened'
He said he was stationed there at night as a leading firefighter for the Auxiliary Fire Service from about 1938.
"I used to be out every night," Mr Clarke said.
"I would be curled up on a bunk bed and then get sent out. I enjoyed what I did."
Mr Clarke, who is due to turn 100 in July, recalled the events of 14 November 1940.
It was the night about 1,200 people died in air raids that destroyed most of Coventry city centre.
He was on his way back from another job when he stopped to help colleagues deal with the fire at the cathedral.
"I went into the cathedral's surroundings," Mr Clarke said.
"I didn't hesitate. I didn't think about it. I just did it and I was never frightened.
"I went into it with my eyes open, did what I could and the rest was up to the gods."
Having lived in Bedworth for most of his life, Mr Clarke now lives at Acorn Lodge care home in nearby Nuneaton.
And it was one of the workers at the home who decided Mr Clarke's efforts should be recognised.
Recreation and leisure co-ordinator Rosie Iliffe said: "He came here in July 2011 and we just sit chatting about the old times.
"He reminds me of my granddad who I remembered had medals and I thought it was strange Lionel didn't."
Ms Iliffe wrote to the Ministry of Defence which replied to say Mr Clarke was eligible to receive the Defence Medal.
About 40 of the medals are issued for civilian service each year, the Cabinet Office said.
It added most are now given to next of kin due to the length of time since World War II.
Mr Clarke's family were present when Warwickshire deputy chief fire officer Gary Phillips presented the medal on Wednesday.
Ms Iliffe said it had been quite an overwhelming experience for everyone at the care home.
"He woke up this morning and thought it was a dream," she said.
"He still has the medal in its box. He has no photos or uniform but does still have an axe engraved with his name.
"The fire service has said it will get it refurbished and put it in a box frame with the medal."