Ricoh Arena rent talks between ACL and Sisu 'collapse'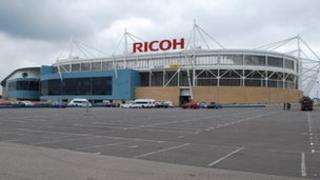 The owners of the Ricoh Arena have said that talks with Coventry City football club about stadium rent have collapsed.
A statement from Arena Coventry Limited (ACL) said it would not resume talks until club owners Sisu accept an agreement drawn up in January.
It included a new rent of £400,000 a year and an offer to write off £300,000 from the £1.3m pounds that Sisu owe.
The statement said: "Make no mistake, now is the time for Sisu to pay up or sell up and get out of Coventry."
The club's owners have been unavailable for comment.
ACL claim three club directors had verbally agreed on an offer made in January to cut the rent from £1.29m to £400,000 a year, while the club remains in League One.
The deal would have seen their outstanding rent arrears cut to £1m with the club also getting a share of the match day revenue.
'No point'
In a statement today, ACL said that the club directors had "reneged" on the deal.
Chairman Nicholas Carter said: "There's simply no point in continuing these discussions while the club, under Sisu's ownership, continues to behave in this manner."
"If the club directors can't or won't follow through on the agreement they participated in creating, then we suggest to them that the time has come to consider offering ownership of CCFC to an outside buyer better placed to run the club's financial operations."
The club was relegated from the Premier League in 2001, after 34 years in the top tier of English Football.
It moved to the Ricoh Arena four years later.