Ashok Leyland to open research centre in Warwickshire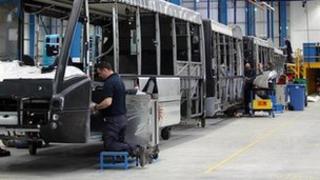 Bus manufacturer Ashok Leyland is to create 30 jobs at a new research and development base in Warwickshire.
The Indian company said it is opening the centre at Nuneaton's MIRA Technology Park.to draw on the area's wealth of technical skills.
Sam Burman, from Ashok Leyland, said: "We have some problems to hire people and find skills in India and we think we can find those skills in the UK."
They will be one of the first businesses to open at the park.
Mr Burman said the company doubled its export market last year. It owns Optare, based in Leeds, and has facilities in the Czech Republic and the United Arab Emirates, in addition to its pan-Indian operations.
Park director Terry Spall said: "It's only 30 jobs but an important 30 jobs. Ashok Leyland are one of the largest manufacturers of vehicles in the world."
Ashok Motors is part of the Hinduja Group, one of the largest commercial vehicle manufacturers in India.
The announcement of the research and development centre was made at the end of a three-day trade visit to India by Prime Minister David Cameron.
Included in the announcement was news that the University of Warwick is to create 16 new scholarships for Indian students.