Coventry City Council passes £29m budget cut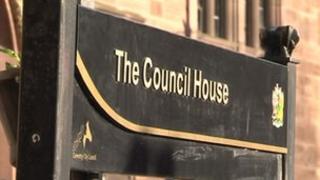 Coventry councillors will freeze council tax next year while making savings of £29m.
The authority had planned a 2% hike but leaders recommended to scrap the rise in order to accept a £1.2m grant from the government.
The Labour-led authority's proposals to save £29m over the year were passed at a meeting earlier.
Up to 800 jobs have gone over the past two years and another 800 could go over the next two years.
Union officials have said the cuts could potentially mean "Armageddon".
The councillors voted unanimously to pass the budget cuts on Tuesday.