Daw Mill mine fire 'may last months'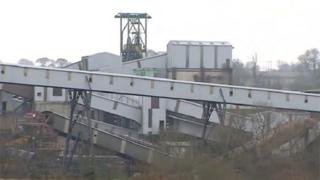 An underground fire at a Warwickshire coal mine could burn for months, its owners have warned.
More than 100 miners were evacuated from Daw Mill Colliery on Friday afternoon after the fire started 1,770ft (540m) below the surface.
Owners UK Coal said firefighting teams were pulled back after they realised the scale of the blaze.
Andrew Mackintosh, from the company, said it could be several months before the fire could even be checked.
"It has been burning and burning in quite a ferocious way," he said.
"We have a small team there trying to starve it of oxygen.
"When we go back in to inspect, as soon as you put ventilation back it's like returning to a barbeque, the potential for it to reignite is quite huge. It could be a very long time till we can get in."
About 56 million tonnes of coal is estimated to remain at the site.
Jobs at risk
Mr Mackintosh said small-scale fires were fairly common, but mines could usually be accessed within 48 hours, which he said demonstrated the scale of the blaze at Daw Mill.
The fire also puts up to 800 jobs at risk.
The colliery was due to close next year and UK Coal said the fire meant commercial mining may not resume at the site.
Mr Mackintosh said talks with unions were ongoing.
The National Union of Mineworkers said it was too early to speculate on the future of the mine.
Daw Mill is the last remaining deep mine on the Warwickshire coalfields.
Energy minister John Hughes said the government would do all it could to support the mine and its staff.
"We're not going to let the community down and we're not going to let our energy future down," he said.