University Hospital Coventry access plans 'risk safety'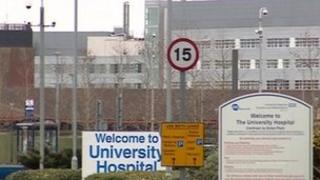 Residents living near a hospital say traffic would pose a safety risk under plans to create a second entrance.
University Hospital Coventry wants emergency vehicles and staff to be able to access it from Farber Road and Brade Drive to help relieve congestion at the main entrance.
Residents' group Walsgrave Community Forum said the volume of traffic under the plans risked children's safety.
The trust said it met residents before submitting a planning application.
It said the city council was considering an application "to make a series of significant improvements to car parking and access arrangements" at the site and there was a public consultation period until 21 March.
'Busiest period'
Chair of Walsgrave Community Forum Geoff Brown said: "The volume of traffic the hospital are proposing to bring onto the estate puts at significant risk...the safety and the wellbeing of the local residents, in particular the children travelling to and from school.
"The largest proportion of the traffic for the hospital is going to totally coincide with the busiest period of parents and children going to school."
Mr Brown said the trust had stated there would be "no more than 200" vehicles an hour, or "three a minute", but he added "traffic doesn't routinely arrive at several second intervals."
He said: "It's interesting they say that they've discussed it with residents. They've presented twice to us, but they've not listened to any of the views of the residents."
In a statement, trust executive director Ian Crich said it had met with "a number of local resident groups" before submitting the second entrance application "to discuss these plans with them".
He said: "We hope that this application is accepted in its entirety so that ongoing congestion and access issues that have for some time affected the site and the surrounding area are alleviated.
"As always, our focus is on the provision of high quality and safe care to our acutely sick patients and therefore, as part of that, we remain committed to looking at all options available to improve access and parking to University Hospital site."