Minister promises to help Daw Mill miners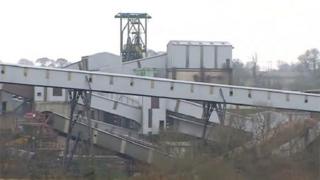 The energy minister has vowed to do everything he can to help 550 miners who will lose their jobs at the last-remaining deep mine in Warwickshire.
Last week UK Coal said it needed to shut Daw Mill Colliery because of a ferocious fire which showed no signs of stopping.
About 100 of the mine's 650 workers are due to be redeployed by UK Coal.
Energy Minister John Hayes said he had "very positive" meetings with union officials and UK Coal on Wednesday.
Union officials also described the meeting as "constructive" and said the minister had promised to visit the colliery.
'Protect interests'
In a debate in the House of Commons earlier, Mr Hayes said he wanted to "do right" by the miners who were set to lose their jobs.
He said: "The government will do all it can - not just to protect the future of the coal industry - but also to protect the interests of these workers."
Over the past year, UK announced restructuring programmes at the mine and in August it said it was "unlikely" the mine would remain open after 2014.
About 56 million tonnes of coal is estimated to remain underground.