Map captures residents' happy memories in Coventry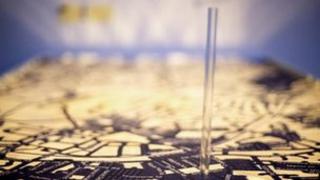 Residents in Coventry are being invited to share their happy memories which will then be placed on a giant 3D map.
A glass cylinder will mark the spot on the map where something good, great or life-changing happened. The higher the tube, the happier the memory.
The memories will then be recreated in a theatre show, Bring the Happy Live, at Warwick Arts Centre in May.
Thousands of people took part in the project in Leeds in 2011.
The aim of the project is to map people's memories for a growing database of the UK's happiness, a spokesman for the arts centre said.
Production company Invisible Flock is taking over a shop in the city centre for the three weeks in April where the public can go to record the experiences.
Indie band Hope and Social will then translate those moments into a live performance as part of the show.