M40 junctions 12 and 14: Plans to stop 'dangerous queues'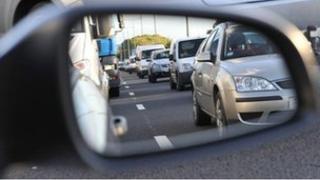 Multi-million pound plans will relieve "dangerous queues" on roads around two of Warwickshire's busiest motorway junctions, the county council has said.
The work aims to relieve congestion at junction 12 of the M40 at Gaydon and at junction 14 near Leamington Spa.
J12 can see queues of 2km while traffic has been jammed between J14 and J15.
Peter Butlin of the council said: "This creates a risk of high speed collisions due to the mix of stationary and fast moving traffic close together."
The council said the high volume at junction 12 was mainly caused by commuters travelling to the Jaguar Land Rover and Aston Martin sites at Gaydon.
Future growth
A planned £6.3m scheme aims to lengthen the J12 slip road, add a dual carriageway section on two B roads and create a number of signalled junctions.
The Conservative-run council has put £3m towards the scheme and said it was seeking the rest of the money from the government.
The work, expected to start in 2015, aims to allow for future growth at the car plants.
Meanwhile, a £1.5m scheme, planned to get under way this summer, aims to increase traffic capacity at the two Europa Way roundabouts at J14.