Kenpas Highway subway 'needs improving'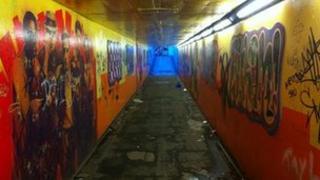 Residents in Coventry are concerned a subway under the A45 has become blighted by anti-social behaviour.
The subway, under the Kenpas Highway near Green Lane, is in a poor condition with graffiti, litter and urine adding to the problem, locals have said.
City councillor Allan Andrews wants the council to deep clean the underpass and consider installing CCTV to deter "anti-social behaviour and drug use".
Locals want to take "ownership" of the subway to improve conditions.
'Proactive policing'
Nick Armstrong, chair of the Green Lane North Residents' Group, said conditions had deteriorated in recent years.
Mr Armstrong said: "It was actually very smart six or seven years ago and we want it back to that condition.
"The murals that are in the subway, the kids got involved with that, they took ownership of the whole subway and it stayed fantastic for about three or four years.
"It's a combination of people going through it. It's a magnet for kids in the evening, especially in the cold weather.
"They like somewhere to stand and chat. You know what kids are like when they get together. Litter, smoking - it's just one of those problems."
The association has met with Mr Andrews to discuss what can be done and will meet again at a multi-agency meeting in April.
The councillor said: "We...need to look at options for the installation of CCTV cameras to act as a deterrent for anti-social behaviour and drug use that takes place.
"We do need to get more proactive policing down there and it is an issue I've raised already."