Tree thieves target a Coventry Jubilee Wood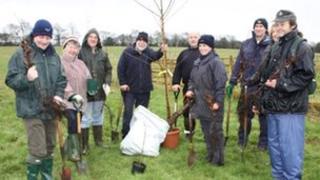 Trees planted to mark the Queen's Diamond Jubilee have been stolen from a new woodland in north Coventry.
About 40 trees in the Jubilee Wood in Keresley were stolen and others were uprooted and damaged.
The Scots Pines, estimated to be worth just a few pounds each, were taken in a targeted attack by thieves.
Corinne Muir, a Coventry City Council park ranger working with the Keresley community, said the theft was "very disappointing and upsetting".
Alan Owens, from Keresley Parish Council, first raised the alarm on Monday.
He said: "At least 40 of the 80 or so Scots Pines we planted have gone. Basically just ripped out of the ground.
"They've even taken some of the canes, which suggests they're going to pot them up and sell them on."
He said the 6" (15cm) native trees had been specifically targeted and other species had been left behind.
Large trees
The plan for the woodland, about five miles north of Coventry city centre, was for 2,500 trees and shrubs to cover 8 acres (0.03 sq km), with a circular walk and a wild flower area.
The project was funded through a Forestry Commission Woodland Creation Grant via Coventry City Council.
Ms Muir said community planting schemes often lose plants in the early stages but she could not recall trees being stolen before.
She said: "People steal bedding plants but I don't think you'd want 40 Scots Pines in your garden. They're very large trees, growing to 60-100 feet tall."
A public planting event on Saturday 6 April, previously planned to complete the woodland, will still go ahead.