James Bond cyber crime expectations 'unrealistic'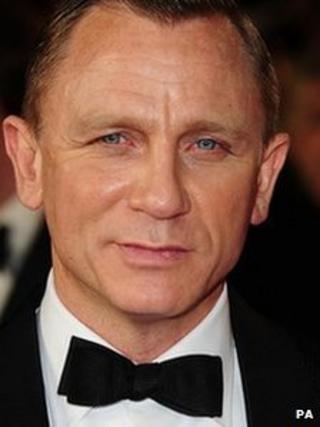 Being "brought up on a diet of James Bond, CSI and Mission Impossible" may have given the public "unrealistic expectations" when it comes to solving cyber crimes, according to police.
Public perception is listed as one of five challenges representing the "greatest issues" in tackling cyber crime, and crime in general, in the future, in a Warwickshire Police report.
Other issues highlighted by Det Insp Mark Glazzard include the availability of technology and challenges to police resources.
In the report, Mr Glazzard said: "The public have been brought up on a diet of James Bond, CSI and Mission Impossible films and programmes. Their expectations with regard to complex, international crime investigation may be unrealistic."
Other future problems in tackling cyber crime, he said, would include the difficulty of international cyber crime crossing different jurisdictions, and also fewer police resources being dedicated to investigations because of budget cuts.
He said the increase in use of "cloud storage" could complicate investigations with information, intelligence and evidence contained within the internet itself.
Cyber crime 'glamourised'
Mr Glazzard said the sheer number of handheld devices which could be used to access the internet could mean a potential increase in online crime.
Warwickshire Chief Constable Andy Parker was due to present the report's findings to the county's Police and Crime Commissioner Ron Ball.
It reveals there were more than 250 reports of cyber "fraud" in Warwickshire in January and February. The most-reported category of fraud in January was connected to online shopping and auctions.
The category of cyber crime includes fraudulent online shopping activity, computer software service fraud, computer misuse crime, offences linked to computer viruses and spyware and computer hacking.
Action Fraud, the national reporting centre for fraud and internet crimes, said it had received more than 46,000 complaints over the past 12 months from members of the public across the UK about "cyber-enabled crime".
It said that amounted to attempted levels of fraud of £292m.
Brian Moore, senior lecturer in ethical hacking and network security at Coventry University, said the general perception of how cyber criminals operated had been "glamourised and completely falsified by the likes of shows like CSI and NCIS".
He added: "The criminals may always be one step ahead, and the biggest barrier may be that, as time passes, more and more knowledge and tools of how to hack, crack and carry out identity crime have been proliferated across the internet.
"The next wave of hackers may be the first true data terrorists, as we, perhaps, ain't seen nothing yet."