Safety fears over housing plan by Wellesbourne Airfield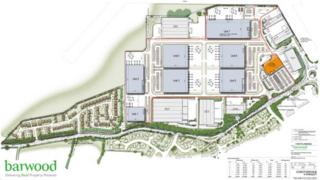 Pilots have raised safety concerns about proposals to build new houses adjacent to a Warwickshire airfield.
The plans submitted by Barwood Developments are for 99 homes, warehouse units and a supermarket on land next to Wellesbourne Airfield.
Building houses on the airfield boundary increases potential for accidents, according to helicopter and aeroplane pilots.
The developer said considerations of safety had been taken into account.
Steve Slater, of the General Aviation Awareness Council, said: "To put housing right at the end of the runway is rash in the extreme. There is a significant safety issue.
"If you have a problem in the airfield circuit, the fact is an aircraft in trouble will be right over the top of those houses."
Revised layout
Amy Pack, helicopter pilot and operation manager at Heli Air, said: "There is a proximity to those buildings which potentially, even though we don't operate in an unsafe way, could have potential to be unsafe."
She said it was an "extremely active, busy, thriving airfield with activity that goes into the evening" and that she could not see how it could operate without significant impact on the new residents.
A statement from Barwood Developments said an Aviation Impact Assessment, prepared by technical specialists, had been submitted as part of the application.
In addition, a revised housing layout plan was being prepared to incorporate a larger area of open space on the airfield end of the site.
The statement concluded: "The consultants for Barwood Developments are satisfied the proposed housing component of the scheme will not impact upon the Obstacle Limitation Surface of Runway 36, and hence the scheme as submitted complies with CAA [Civil Aviation Authority] guidance for the Safeguarding of Aerodromes.
'No barbecues'
"Safety considerations have been properly taken into account in preparing the planning application."
Mr Slater said residents of the new houses could be restricted in not being allowed barbecues, outside lights, solar panels or wind turbines because of their proximity to the airfield.
Michael Littler, the manager of Wellesbourne Aerodrome, said he feared new residents could in turn ask for restrictions on airfield operations.
Barwood Developments paid £20.75m for Wellesbourne Distribution Park on Loxley Road in October 2011.
The application is currently pending consideration by Stratford District Council and could be referred to the Civil Aviation Authority.