Warwickshire recruits special constables as crime falls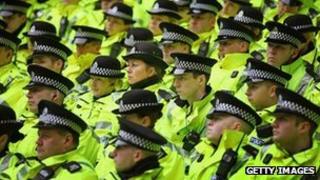 Figures from Warwickshire Police show reported crime has fallen by over 12%.
Reported crimes fell by 4,208 from April 2012 to April 2013 compared to the previous 12 months.
Chief Constable, Andy Parker, said he was "delighted" and called for more Warwickshire residents to help by becoming special constables and police volunteers.
The figures also showed reported crimes have fallen by a third in the past 12 months compared to six years ago.
The total figure for reported crimes in Warwickshire over the past 12 months was 29,600.
"Not the full picture"
Some observers have said police figures do not show all crime experienced by residents.
Professor Marian Fitzgerald, Criminologist from the University of Kent, said: "The figures are not the full picture. Credit card fraud, online crime figures... are not being collated centrally."
She said new types of property crime, such as online fraud, were seldom reported so will not appear in police figures.
Mr Parker said there has been "an element of under-reporting" for years but evidence showed this had not increased.
He said Warwickshire was "one of the safer parts of the country" and he was "delighted by the commitment and dedication" of his team.
He added: "However, we will continue to target those criminals who cause harm and focus our efforts in those areas where most crime occurs - we are determined to reduce crime further.
"If anyone would like to do more to contribute to keeping Warwickshire safe and secure, we are currently recruiting special constables and other police volunteer roles, so we can continue to offer the most protection possible with the resources available to us."
In 2006/07 the total number of crimes reported to Warwickshire Police was 45,213, which is 34.5% more than the latest figures.