MIRA technology park launches academy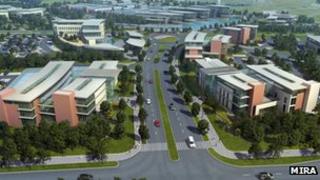 A training academy has been launched at a technology park in Warwickshire and Leicestershire as part of a bid to create 2,000 jobs by 2020.
Nuneaton-based vehicle engineering consultancy MIRA want to use the academy to train staff and support future workers.
More than 100 training courses and work experience placements will be offered.
A MIRA spokesman said it expected to train 10,000 people, including schoolchildren, over five years.
The first part of the £50m technology park, part of which is in Hinckley, was opened in November.
At the time MIRA said 188 jobs had been created since 2010 and it expected a further 145 jobs to be created this year.
'Next generation'
The firm's chief executive, Dr George Gillespie, said finding prospective workers for the projected 2,000 jobs would be a challenge.
Dr Gillespie said: "We've got to get into the schools and inspire the next generation of kids to consider moving into engineering as an exciting, rewarding career choice.
"There are issues around developing the skills and the number of staff of the future. The academy comes together to try and approach both of those things.
"As we look to recruit people, it's everything from school leavers, apprenticeships, graduates, masters students, PhDs and then the training for all our staff.
"We expect to train over 10,000 delegates over the next five years, so this is a big programme."