Coventry engineering jobs boost from grant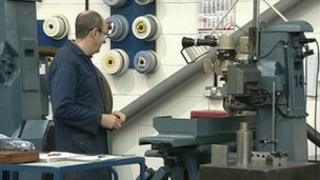 Ten engineering companies in Coventry and Warwickshire are to share a £4.8m grant that local business leaders said could create up to 1,000 new jobs.
The Local Enterprise Partnership (LEP), which approved the funding, said it was also expected to help attract about £43m in private investment.
Sir Peter Rigby, chairman of the LEP, said the grants were a "massive show of faith" in the region's growth plans.
He said the projects would be started as soon as possible.
Unipart Eberspacher, which produces fuel systems for cars, is one of two companies within the Unipart Manufacturing Group to benefit from a grant.
Equipment and training
Group managing director Carol Burke said the funding would be part of a £13m investment and create 90 new jobs at its Coventry factory.
She said the Growing Places grant would also allow it to invest in new equipment and training for staff.
The government funding is allocated by LEPs across the country.
Coventry and Warwickshire firms which will also benefit are: Richmond Design and Marketing Limited, Expert Tooling and Automation Ltd, Envisage Group Ltd, Lear, Covrad Heat Transfer Ltd, Warwick Manufacturing Group, and Drive System Design Ltd.
Martin Yardley, chief executive of the LEP, said local companies were "crying out" for investment and the Growing Places grants also required the firms to source private investment for their projects.
He said in the past funding had often tended to be used to support failing companies, but the LEP had chosen to focus on successful high-value manufacturing firms to make sure the local economy would benefit.