The NFU and Farmers for Action go their separate ways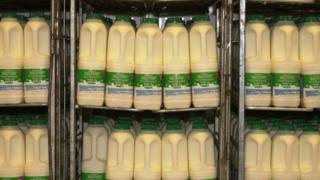 It was a slightly unorthodox but in many ways effective combination of forces trying to get dairy farmers more money for their milk.
And bringing together the lobbying know-how of the National Farmers Union (NFU) with the street-smarts of Farmers For Action (FFA) has definitely produced results.
But now, after just over two years of working together, the NFU and FFA have decided to go their separate ways.
Despite the undoubted achievements of the "SOS Dairy" campaign it was always a surprise that these two very different groups of farmers came together in the first place.
The NFU is as establishment as you can get, while FFA has embraced a very French approach to direct action and disruption.
The initial decision to try to work together came in January 2011, with the focus very much on securing a better milk price for dairy farmers.
But it wasn't until July last year, when anger at price cuts crystallised in a passionate meeting at the Staffordshire County Showground, that the NFU And FFA combo really took off.
Marches and blockades
There followed a big meeting in London, lobbying of ministers and supermarkets and plenty of direct action in the form of marches and blockades of distribution depots and dairies.
It worked with planned price cuts being abandoned and even a rise in the milk price for many.
While we're praising the achievements of farmers' leaders, it's worth saying that you also need lots of real farmers to turn out for your protests to make them work.
I've spent several evenings and nights at blockades in the Midlands where hundreds of people have turned up to stop lorries moving in and out of the Muller, Wisemans and Farmfoods depots.
There's plenty of passion and anger from farmers and channelling this so effectively is the biggest triumph of the NFU and FFA, culminating in the development of a code of conduct for the dairy industry.
So why the split?
Well, it's not surprising that two groups with very different approaches to protest might have had a tense relationship.
It seems that recently the two sides have been pulling apart.
There's certainly been an increase in direct action recently and I'm sure FFA would argue that's one reason why we've actually seen some dairy price rises despite earlier mutterings about cuts.
But the NFU has always been uncomfortable about disrupting businesses and would argue it's the soft-power of their lobbying that gets results.
In the end, with such different approaches it seems FFA decided it was time for them to leave the coalition with the NFU although they may well work with them again in the future.
There's no denying though that both organisations have had an impressive run.
For farmers the big question now is, will a separate NFU and FFA be as effective working apart as they were when working together?