Coventry house damaged by parked car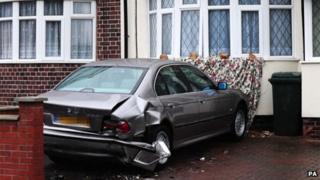 A parked car has smashed through the front of a house after it was hit by a van.
West Midlands Fire Service said the BMW had been on the driveway at a house in Parkgate Road, Coventry.
It was hit by a van at about 01:00 BST, causing it to make a hole in the living room wall.
The fire service said a person in the van suffered facial injuries and was taken to hospital, while a man in the house was given a precautionary check.
A spokesman said a structural engineer checked the property.