Radford church removes war memorial metal plaques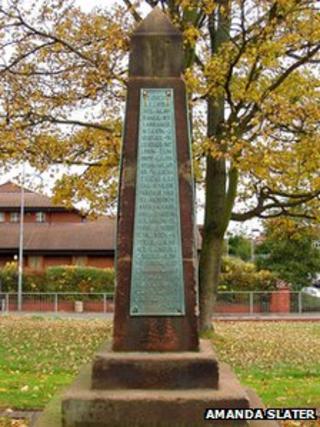 A church has removed metal plaques bearing the names of World War I soldiers from its war memorial, which has been targeted by thieves.
Wardens at St Nicholas Church in Radford in Coventry said they believed someone had tried to prise off two large bronze nameplates.
Two other plaques were stolen from the monument two years ago, they said.
A campaign is under way to restore the monument in time for next year's 100th anniversary of the start of WWI.
The stone obelisk, which displays the names of 80 soldiers, was moved from its former home on nearby Radford Common during the 1980s.
Churchwarden Judy Dunk said: "We think that because they are bronze people are trying to steal them and sell them for cash.
"Rather than have all the plaques disappear we decided to remove them and keep them safely under lock and key in the church."
Ms Dunk is appealing for anyone who knows of the names of the men on the stolen plaques to get in contact.
"We do intend to get these replaced, and find a way of making them more secure, but we need to find a record of all the names first."