Shakespeare development: Stratford council in court appeal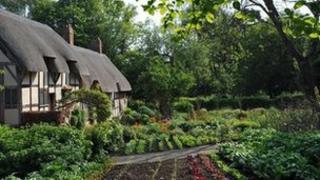 A High Court hearing later will decide whether 800 new homes can be built near a Shakespeare property in Warwickshire.
Plans for the development near Shottery in Stratford-on-Avon were approved by the communities secretary in October after an appeal by the developer.
The plans, for homes, a school and a health centre, were originally rejected by Stratford-on-Avon District Council.
It is now challenging the communities secretary's decision at the Birmingham Civil Justice Centre.
The site for proposed development, south-west of Alcester Road, is close to Anne Hathaway's cottage, once home to William Shakespeare's wife and now a tourist attraction.
Some of the land earmarked for the development is owned by the The Shakespeare Birthplace Trust which could face a compulsory purchase order if plans get the go-ahead.
The council's planning committee originally objected to the density of the proposals by Bloor Homes and Hallam Land Management.
The chair of the planning committee, Sir William Lawrence, said: "Up to 800 houses round the back of Shottery is almost like a new town."
No one from Bloor Homes or Hallam Land Management was available to comment.
The hearing is expected to last for two days.