Daniel Pelka: Stepfather 'broke boy's arm in hide-and-seek'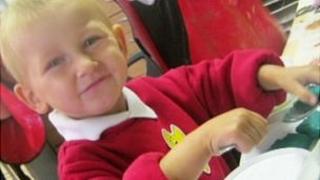 The stepfather of a four-year-old boy he is accused of murdering has told jurors he accidentally broke the child's arm in a game of hide-and-seek.
Daniel Pelka died from a head injury in Coventry in March 2012.
His mother Magdelena Luczak, 27, and her partner, Mariusz Krezolek, 34, both from Poland, deny murdering him.
Mr Krezolek told Birmingham Crown Court he accidentally broke Daniel's arm during the game in January 2011, but denied ever beating him.
Post-mortem tests on Daniel's body found he had more than 30 wounds and that when he died he weighed one-and-a-half stone.
Mr Krezolek denied there had been any "deliberate campaign" to starve his stepson.
However, he admitted smacking Daniel and said he had also fed the boy salt as a "punishment" on at least one occasion.
Mr Krezolek told the court the boy's mother had an alcohol problem, regularly smoked marijuana and would shout at Daniel or shake him when she was angry.
Kneeling punishment
He said she would sometimes hit the boy with a belt.
Mr Krezolek claimed Ms Luczak asked him to make Daniel kneel down for up to 20 minutes as punishment for stealing sandwiches at school and bad behaviour.
"I was stupid and I listened to Magda," he told the court.
Answering questions from defence barrister Nigel Lambert QC, Mr Krezolek said: "Magda would often call me in tears and she would say, 'Do something, shout at him because he is not listening to me at all'.
"I would hit him on his bottom, sometimes his hands, but not to beat him up the way Magda did."
He said he also made the boy run around the living room and do about 10 minutes of squats, again at Ms Luczak's request.
He claimed her view was that "it's the man that should be punishing".
The stepfather said that on one occasion Daniel was "very naughty in the morning before school and Magdelena told me to give him some salt so I did".
He told the court that on another occasion he overheard Ms Luczak punishing Daniel with salt, saying that because the boy had been asking for a drink he would now "be more thirsty".
Mr Krezolek told the court: "I had never seen a mother giving salt to a child out of spite."
'Cheeky boy'
Mr Krezolek and Ms Luczak have admitted child cruelty, but deny murder and causing or allowing Daniel's death.
Mr Krezolek told the court Ms Luczak would "get angry" and "throw things" when she had been drinking.
He said she made a number of "false allegations" of assault against him and said he was arrested but never charged.
Mr Krezolek said Ms Luczak, would "sometimes out-of-the-blue explode and cause arguments".
The court was told by Mr Krezolek that Daniel was a "cheeky boy", but said he was "completely normal".
However, he told the jury the youngster could be timid when he was taken to a park and did not like to speak to other children.
He said Daniel said very little in English or Polish, but that his relationship with Daniel and his sibling was "very good".
The trial continues.