Nuneaton dog Azar survives after swallowing three golf balls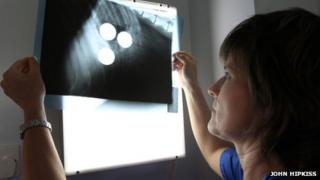 A dog has survived after swallowing three golf balls.
Louise Powis, 27, of Nuneaton, took the six-year-old Doberman, called Azar, to the vets after he suddenly became ill and lost weight.
X-rays showed two of the golf balls in his small intestine, leaving him at risk of his intestines rupturing, the veterinary charity PDSA said.
Vet Kath Vandamme said staff were not sure Azar would survive an operation to remove them.
Ms Powis said it happened earlier this year and was "a very worrying time".
"Within a few days he'd dropped about a stone, he's had a few dietary problems so we thought it was that," she said.
"It was really scary and the (three) kids were really scared - they adore him."
'Really unusual'
Ms Vandamme said: "Azar was very poorly when he was admitted and could barely stand, but there was nothing obvious to determine what was causing his illness.
"It was really unusual, I don't know how he managed to do it.
"We still don't know where he picked the golf balls up from, we think it was in a field near us where we let him off his lead during walks," said Ms Powis.
"I was shocked to find out what had happened and despite how serious it was we couldn't help but chuckle as we don't know how he managed it."