Coventry University telecoms virtual library goes online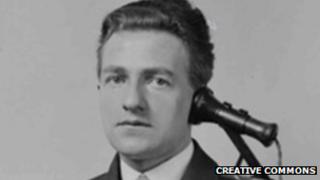 Rare documents - including a government rejection letter to the inventor of the telephone - have gone online for the first time.
Among the 500,000 files are pictures documenting the first 999 call and private royal telegrams.
Others show how notorious killer Dr Crippen was caught in 1910 with the first use of a transatlantic telegram.
Coventry University have created the £1m "virtual library", which celebrates the UK's 165-year telecoms history.
The searchable database was created in conjunction with BT and the National Archives. Funding came from Jisc; a national charity providing digital services for UK education and research.
One letter, from 1877, is sent from the government to Alexander Graham Bell, politely declining the use of his 'new' telephone invention.
Neil Forbes, a historian and director of research at the university called the archive "a magnificent achievement".
"It took about 18 months to transfer all of the documents, pictures and letters, which previously took up around three kilometres of shelf space.
"A lot of hard work went into individually cataloguing every item - these documents and images haven't been seen by the public before, and now they are all there for the world to see for free," he added.
"National and cultural importance"
David Hay, head of heritage at BT, said the archive showed how attitudes to different cultures, races, classes and sexes had changed over the years.
"There are many weird and wonderful photographs in the archive, which really do make you stop and stare.
"It's a fascinating glimpse at the ways in which technology has changed our lives, as well as how our daily lives have changed over the last 165 years on so many levels," he said.
Letters in the archive chart women's battle for equal pay in the telecoms industry.
Plans are already under way to put even more documents online in the future, said Mr Forbes.
"This is a very important collection and a very important part of the national archives - in the future, we intend to expand the online archive and make it even bigger.
"It's an archive of national importance, and one that is now there for the whole world to see," Mr Forbes added.