Rare species plan for Warwickshire's greenways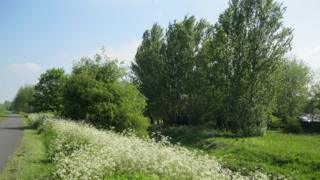 A transport charity said it hopes to encourage rare species to live on its Warwickshire cycling routes.
Sustrans will carry out a survey of the wildlife along two of its greenways in the county and hopes to attract new species to live there.
The charity said it wants to entice butterflies, such as the grizzled skipper, and the bloody-nosed beetle to live along the route.
They said the survey would take about three years.
The two routes to be included in the survey are the 2.7 km (1.7 mile) Walsall-to-Pelsall greenway and the 11.2km (7 mile) Lias Line, off the Fosse Way.
Recruit volunteers
Bernadette Higgins, a Sustrans ecologist, said: "These traffic-free routes form part of the National Cycle Network. They are great for wildlife but we want to increase the variety of species along the routes.
"We are looking at creating these corridors so that wildlife will be able to get from one habitat to another, rather than existing in isolated groups."
She added the plan would involve recruiting volunteers to manage habitats and allowing wild flowers to grow where appropriate.