Residents of Coventry flats are 'freezing' without gas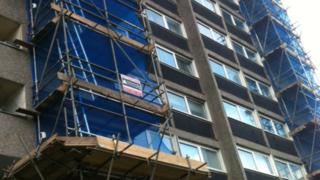 Residents living in a block of flats in Coventry say they are "freezing" after living without a gas supply for 11 weeks.
The supply to 45 homes in Vincent Wyles House in Wyken was turned off by the National Grid to deal with a gas leak in September.
National Grid said it was working as quickly as possible to get the gas back on.
One resident, Michael Sanford, described the situation as "terrible".
Mr Sanford said: "It's been cold; it's been damp. We're having to take wet clothes and towels to a laundrette."
He added the residents had not been told when the gas might be switched back on.
Another resident, Sean Griffiths, said: "The gas was initially switched off in September but three months later, we are still waiting for our heating to come back on."
Mr Griffiths said Whitefriars Housing, which owns the flats, had supplied the residents with electric heaters, but added he was not using his "because it's not affordable".
'Kept in the dark'
He added some residents who had gas cookers were having to live off microwave meals.
City councillor Ed Ruane said he was "appalled" at the situation.
He added: "I need to find out from the National Grid when they're hoping the works will be completed because at the moment local residents are being kept in the dark."
Karen Green, assistant director of Whitefriars Housing's repairs service, said: "We understand National Grid will be in a position to start reinstating the gas supplies to those affected next week.
"We have been working to ensure that residents have been provided with temporary heating and cooking facilities throughout this period."
Jeanette Unsworth, from National Grid, said: "We accept the residents are in a difficult position and I would assure them we are working as quickly as we can to get the gas back on."
She added the job was a complicated one and described the work on the gas pipes as "a bit of an engineering challenge".