Compton Verney announces Capability Brown park funding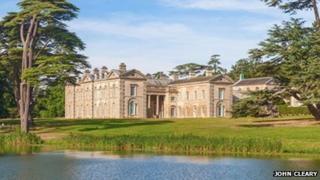 A Capability Brown park and chapel in Warwickshire could be restored with help from the Heritage Lottery Fund.
The grounds surround the art gallery at Compton Verney, in Warwickshire, which was once a derelict Georgian house.
Development funding of £179,656 has been awarded and the charity that runs the property can now apply for a full £2.5m grant.
They plan to build a visitors' centre, use the chapel for events and recreate original Georgian walking routes.
Two sculptural "eyecatchers" and a contemporary bridge are also proposed for the estate, which was designed by the renowned 18th Century landscape gardener.
Dr Steven Parissien, director of Compton Verney, said the estate's history had "astonishing potential".
Reyahn King, from the Heritage Lottery Fund for the West Midlands, said: "With the centenary of Capability Brown's birth approaching in 2016 this project to conserve and protect the historic North Park at Compton Verney could not be more timely."
She said the project for the Capability Brown park, which covers 120 acres (0.49 sq km), would make the property "a marvellous heritage asset for future generations to learn from and enjoy".
Compton Verney opened its Capability Brown chapel to the public in 2012 for the first time in 23 years, after roof repairs. Further restoration would bring it back into use as a venue.
Fundraisers now have two years to submit full proposals to compete for a full Heritage Lottery Fund award.