Spirit Quarters housing regeneration plans cut back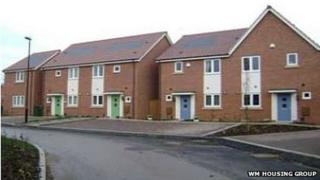 Plans to regenerate part of Coventry are being scaled back to save money.
Developers had planned to build 3,300 new homes in Wood End, Henley Green, Deedmore and Manor Farm as part of the £360m Spirit Quarters scheme.
Revised plans to build 900 new houses and refurbish about 1,000 homes have been submitted to the city council. The scheme will cost £80m over 10 years.
The project is part of a partnership between the authority, Whitefriars Housing and three housing developers.
Ed Ruane, Cabinet Member for Heritage and Housing, said: "No-one could have known how long the economic downturn was going to last and if the partners decided to carry on with the original plan it could have taken 30 to 40 years to get the homes all built."
The council said about 120 homes were under construction with more than 270 homes already built, along with a new leisure centre and three new primary schools.
Construction work on 238 new homes and shops in Wood End would start in late 2014, it said.