Builder's bald African Grey parrot stolen from Nuneaton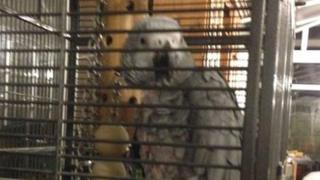 A builder's balding parrot has been stolen from a house in Nuneaton.
The African Grey called Jak, who has featherless patches on his chest and neck due to plucking, was taken from a property in Stable Walk.
It is understood the culprit climbed a garden fence, opened a conservatory door and snatched the bird from his cage around 08:30 GMT on Sunday.
Owner Paul Sanders, from Cradley Heath, said he was devastated. He bought Jak from an Oldbury pet shop 20 years ago.
The bird was being kept at his parents' home at the time.
"This is so distressing to me and also my family who have only been looking after him for me for a week," said Mr Sanders, 48.
"They are feeling awful and my mother is so upset."
African Greys are worth up to £1,000, he said.