New Stratford Hospital cancer service plans approved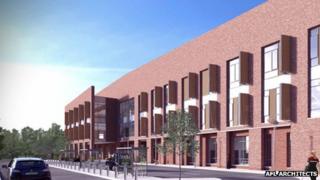 Plans for a £20m expansion of Stratford Hospital have been approved by South Warwickshire NHS Foundation Trust.
The development will see new cancer treatment and ophthalmology services brought to the town, the trust said.
The new three-storey building will be built next door to the existing hospital.
All current health services will remain operational throughout construction, the trust said.
Cancer services are being expanded to meet the demands of a growing and ageing population in Stratford, a spokeswoman added.
Demand for these services has increased 17% above the expected level since March 2013, according to the trust.
Currently patients in South Warwickshire have to travel to Warwick Hospital for cancer treatment, a trip that many find too far.
Work on the new building is due to begin in the autumn and is expected to take 15 months.