Nicola Payne disappearance: Nothing found at nature reserve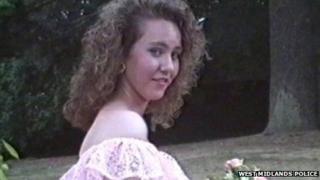 Police investigating the disappearance of teenage mother Nicola Payne failed to find anything during a search of a nature reserve.
Officers spent six hours at grassland in the Stoke Floods area of Binley on Monday.
The last sighting of 18-year-old Ms Payne was in the Henley Green area of Coventry in 1991.
Two men, aged 49, arrested in December last year on suspicion of her abduction and murder remain on police bail.
A woman, 51, who was arrested on suspicion of perverting the course of justice, was also bailed.
Det Insp Martin Slevin said: "The searches yesterday didn't recover anything of interest to the investigation team, but enquiries remain very much ongoing into Nicola's disappearance in December 1991."