Mariam Alam: Three sentenced for child death cover-up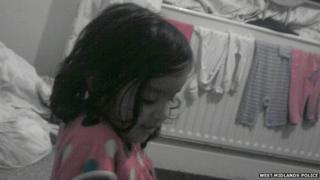 Three people have been sentenced for trying to cover up the death of a three-year-old girl in Coventry.
Mariam Alam died after suffering a head injury at the home of Kamran Khalid in Foleshill on 30 November 2011.
The girl's mother, Saima Bashir, Khalid and his wife Razwanah Yousef all pleaded guilty to perverting the course of justice at Birmingham Crown Court.
Khalid was jailed for 34 months and the two women were given 18-month suspended prison sentences on Wednesday.
A murder charge against Khalid, 36, of Holbrook Lane, Holbrooks, was dropped due to lack of evidence but he admitted child cruelty for failing to get Mariam emergency medical treatment.
Bashir, 27, and Yousef, 34, both from Fisher Road in Foleshill, had their jail sentences suspended for two years.
Det Ch Insp Chris Hanson said: "The whole investigation team has been shocked by the cold and cynical way family and friends have tried to cover up Mariam's death... because of their lies we still don't know exactly how Mariam received the head injury that killed her.
"It's highly frustrating we were unable to prove precisely what happened to Mariam but, ultimately, we can only go as far as the evidence takes us.
"I just hope that Mariam can now rest in peace."