New 50m pool plans for Coventry are 'considered'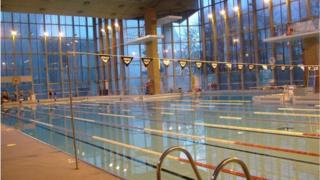 A council which plans to close the Midlands' only 50m public pool has said it is now considering building another one elsewhere in the city.
Coventry City Council wants to axe its current facility on Fairfax Street to replace it with a 25m "water fun park".
Campaigners, who met authority members last week, said its closure would mean future generations would "miss out".
The council said it was carrying out a feasibility study into plans to build another 50m pool instead.
'Flexibility and space'
Jo Deakins, from the City of Coventry Swimming Club, said a petition started on Friday to keep a 50m pool in the city had attracted about 1,000 signatures.
"The centre is used by a variety of people," she said.
"It's the swimming club's home and we use it every single day. But while we are swimming in four lanes, the other half of the pool is open to the public.
"As a club, we have been in that pool for 40 years and we have produced Olympians and internationals. We would hate for future generations to miss out."
Ed Ruane, cabinet member for sport at the city council, said: "We had a really constructive meeting last Friday with members of the swimming club.
"We are now modelling an option for locating a 50m pool at the proposed new site. We are carrying out feasibility studies at the moment."
He said one option was inviting the private sector to run the pool - something Birmingham City Council has done.
However, he added: "It's always going to come back to the figures. We can't continue to subsidise swimming facilities. Swimming is not a statutory service.
"And with the financial pressure we are under, particularly in children's services, we can't throw more and more money - quite frankly - down the drain."