Riding school trustees 'win court battle'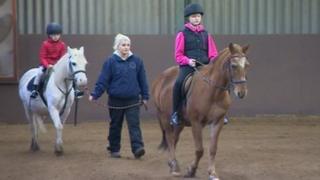 Trustees at a disabled riding school say they are negotiating renewing its lease after winning a court battle with a council.
Nuneaton and North Warwickshire Riding Centre has been involved in a legal fight with the borough council after it decided not to renew its lease.
The trustees said they had now been recognised as "bona fide trustees" at Birmingham County Court.
The council said it was in a position "to initiate a dialogue" with trustees.
The local authority had been trying to claim that the group were "not proper trustees," the trustees said.
'Totally committed'
The equestrian centre has been based at the Galley Common site since the 1970s. The lease on the site ran out in December 2012 but the council decided not to renew it.
The trustees said a judge had now given them a two-month period from 15 April to negotiate a new lease.
Riding centre trustee Jean Miller said: "All we want to do is focus on what we are here for, giving riding lessons to people who experience a wide range of physical and learning disabilities.
"All the trustees, management of the centre and our many volunteers are totally committed to doing all they can to keep the centre going and the sooner we can move on the better."
In a statement, council leader Dennis Harvey said: "The judge has decided that the occupants of the Galley Common riding centre have the right to seek a new tenancy in place of the current tenants.
"In light of this judgement we're now in a position to initiate a dialogue with the de facto trustees and the advice from the appropriate officer suggests that this is the correct thing to do, at this stage."
Following this statement, the trustees said the "occupants" were the same charity as the current tenants, as highlighted by the judge, but some members have changed.