Train owl Lucky returns to wild after surviving 300-mile trip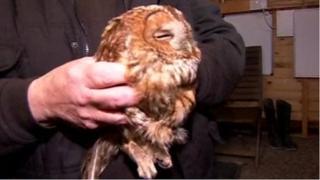 A tawny owl named Lucky after clinging to the front of a train for more than 300 miles has been released back into the wild.
It is understood the bird climbed on to the Class 66 locomotive at Mossend, near Glasgow.
He was found beneath the driver's cabin when it reached Stobart's freight terminal in Crick, Northamptonshire.
Lucky, who has recovered from a sprained wing, has now been released in woodlands near Nuneaton, Warwickshire.
He has spent the past three weeks recovering at Nuneaton and Warwickshire Wildlife Sanctuary.
The sanctuary's owner, Geoff Grewcock, said: "He's perfect. His wing's completely recovered and he's 100% fit."
Asked why Lucky had been released in Warwickshire, not Scotland, Mr Grewcock said: "There's everything he needs here.
"There's nest boxes. There's female tawny owls.... It's the ideal place."