Coventry and Nuneaton rail link work 'to start in June'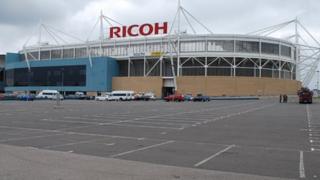 Work to improve rail links between Coventry and Nuneaton will start in June after the government approved funding for the scheme.
New stations will be built at the Ricoh Arena and Bermuda Park in Nuneaton. Platforms will be extended at Bedworth station to accommodate longer trains.
The Department for Transport is putting £4.7m towards the £13.6m project which has been in the pipeline for ten years.
Coventry City Council said the stations would open in May 2015.
'Wider benefit'
The scheme will also be funded by Coventry and Warwickshire councils, and the West Midlands transport group, Centro.
No details have been released about how frequently services would run on the line.
Mark Whitelegg, from the Coventry, Bedworth and Hinckley Rail Users Group, said a stop at the Ricoh Arena was "important" despite Coventry City not currently playing at the stadium.
He said: "The retail park next to the stadium attracts a lot of visitors.
"It's not just for football fans because you would only get matches played there every two weeks, so this brings a much wider benefit to that part of Coventry."