Coventry school rebuilt under government scheme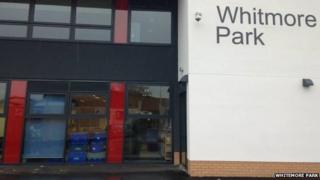 A Coventry primary school has opened its doors as part of a £2.4bn government repair scheme.
Whitmore Park Primary School has been "completely rebuilt" as part of the government's Priority School Building Programme (PSBP), the Department for Education said.
The school's head, Caroline Kiely, said the new building would make "a real difference".
More than 250 schools are being rebuilt or repaired in the programme.
The PSBP targets schools "in the very worst condition" and replaced the previous government's larger £52bn school building scheme after it was branded "dysfunctional".
'Reasonable progress'
Ms Kiely, executive head teacher, said: "Our previous building was past its best, so the new school will mean less money will have to be spent on repairs and can be spent on better equipment or more staff instead."
In April last year, education watchdog Ofsted put Whitmore Park Primary School in special measures.
A follow-up inspection this January concluded the school was "making reasonable progress" but remains classified as 'inadequate' overall.
The £5m project included a new building for the school's 630 pupils, plus a 39-place nursery.
Schools minister David Laws said the school's opening was a "major milestone" in the programme.