Warwickshire Fire Service cutback proposals on display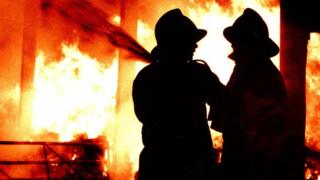 Plans to cut more than £1m from Warwickshire's fire service budget over the next two years have gone on public display.
It would mean the loss of 30 firefighters and five control room staff as well as one fire engine in Leamington Spa.
The fire service said it had to look at how it can "deliver front-line services differently".
It is holding consultation days in five towns over a two-week period.
Warwickshire Fire and Rescue Service said it had to cut £2.4m over the next four years, 12% of its overall funding.
It has produced proposals to cut £1.3m over the first two years, with 15 front-line jobs going in 2014-15 and another 15 the following year.
All the jobs to go would be full-time firefighters and the number of retained firefighters would not change.
The fire service currently employs 230 full-time firefighters and 114 retained staff.
In 2015-16 it said it planned to reduce the number of fire engines based in Leamington Spa from four to three.
Selected groups
The fire service believes that by changing shift patterns, it can maintain response times in towns and improve them in rural areas.
At present it says it responds to serious incidents in rural areas within 20 minutes.
Fire chiefs said they believed that with the changes it can reduce that by half and would respond to serious incidents in those areas within 10 minutes, 80% of the time.
The proposals have already been shown to selected groups as part of a 12-week consultation period, but this would be the first time they have gone on display to the wider public.
Fire service chiefs will be visiting five towns - Leamington Spa, Rugby, Nuneaton, Atherstone and Alcester - to explain the ideas and take questions.
The consultation is due to end on Friday, 20 June.