Coventry Sikh war memorial plea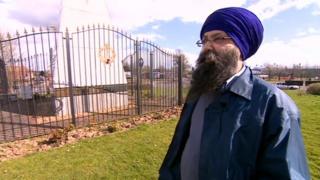 A man whose grandfather fought in World War One is calling for a war memorial for Sikh soldiers to be installed in a better location in Coventry.
Maghar Singh was sent to the frontline in France aged just 15, after signing up to fight in the British Indian Army.
In 2002, his son joined other Sikhs in Coventry to help set up a memorial on a roundabout on the A444.
While praising the memorial, Maghar's grandson Jagdeesh Singh said the location underplayed the Sikh role.
Between 1850 to 1945 three generations of the family served in the British Indian Army, including Jagdeesh Singh's great-great grandfather, Bassan Singh, in the 1st Sikh Infantry.
'More fitting'
The memorial at the Coventry roundabout is dedicated to those in Sikh regiments who died during both World Wars.
Mohinderpal Singh, 76, who died last year, helped create the 22ft (6.7m) marble monument at the junction with Stoney Stanton Road and Gallagher Retail Park.
Jagdeesh Singh, his son, said: "The initiative by the many groups, the many activists who brought this together, that's unquestionable and highly commendable.
"But I think with a bit more thought we need to see a memorial a lot more prominent in a lot more publicly accessible places, such as for example the Coventry (city) centre.
"A memorial which is more informative... more vivid, where the ordinary citizen of Coventry can access (it), Sikh, non Sikh, English, Scottish, Asian... that would be a lot more fitting."
Mr Singh also called for more coverage of "the Sikh sacrifice in the mainstream media".
He added: "You leave your home and you travel 5,000 miles away to a completely different continent.
"My grandfather, and others like him, never even set foot in this country, and they were dying in their thousands for this country."
Maghar Singh arrived in France in 1915 and was in the trenches along with other Sikh soldiers.
Speaking at the Royal Military Academy at Sandhurst, home of the Indian War Memorial room, Colonel Robin Vickers said the Sikh community produced some "very fine fighting soldiers".
He said: "The numbers of their casualties paints a picture: 83,000 Sikhs gave their lives in the First and Second World Wars combined and over a hundred thousand of them were very seriously wounded."