Team Sky bike is 'best in the world' says Sir Dave Brailsford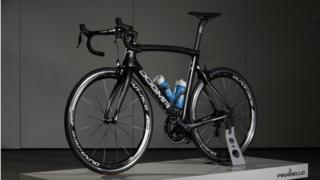 A £12,000 bike developed for Team Sky by Jaguar is the "best in the world", according to team principal Sir Dave Brailsford.
Sky won the past two Tour de France races, with Sir Bradley Wiggins and current champion Chris Froome, and launched the Pinarello Dogma F8 at Jaguar's site in Gaydon, Warwickshire.
Sir Dave said the bike, developed at the car maker's virtual innovation centre, is light, fast and aerodynamic.
The Tour starts in Leeds on 5 July.
'The best shot'
Jaguar has previously supplied support cars for Team Sky but the company said this was its first involvement in bicycle engineering.
The model, which was a collaboration between Jaguar designers and Italian bicycle frame makers Pinarello, makes its competitive debut at the Critérium du Dauphiné race in France on 8 June.
Sir Dave said: "One of the challenges has been to try to create a bike that has the components of lightness, handling and aerodynamics all in one bike.
"That's the trick with this bike - it's the best on every level.
"I'm confident we will be able to give the Tour de France the best shot we can. We have the best bike and the best equipment.
"It's a three-week race and a lot of things can happen but we are going there confident we can defend our title."
Jon Darlington, head of aerodynamics at Jaguar, said: "Taking our level of engineering capability and applying it to a bike project is something that has not been done before."
'Exploring every avenue'
Gary Coltman, head of performance at Scottish Cycling, worked with Sir Dave on the GB cycling team for 10 years as Olympic talent programme manager.
He said: "This bike won't be a PR stunt. Dave Brailsford has spent his career thinking outside the box and using innovation from different industries to gain every advantage possible. He has changed the sport quite significantly.
"Until about 20 years ago, bike design was probably more about paint jobs than performance and I don't think anybody thought to draw on expertise from outside cycling.
"For Dave, it's very much about exploring every avenue and this bike will be all the better for that."
This story was updated on 10 June, to provide an independent viewpoint on the bike.