Ricoh Arena: Judicial review opens into £14m loan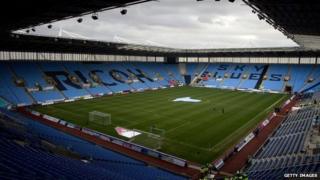 A judicial review has opened to consider the legality of a £14m city council loan given to operators of Coventry's Ricoh Arena.
It was used to allow Arena Coventry Limited (ACL) to pay off debts.
Coventry City FC played at the stadium until the 2013-14 season and moved away after a row with ACL over rents.
A three-day independent judicial review, sitting at the Birmingham Civil Hearing centre, will decide if the loan was an unlawful use of public funds.
Giving evidence to the judicial review, lawyers for the club said the bank would have provided a loan to ACL if restructuring had taken place and an agreement with the club had been reached regarding rent.
They added ACL was worth less than half of the £14m loan from the council.
Sisu, which previously owned Coventry City FC, called for the review, although the city council has denied suggestions it acted inappropriately when it approved the loan in January 2013.
ACL runs the Ricoh Arena on behalf of the local authority and the Alan Edwards Higgs Trust charity, which co-own it.
In April, a court case between the charity and Sisu ended with neither side winning damages, amid claim and counter claim.
The long-running dispute over rent has seen the football club play home games at Northampton Town's ground, more than 30 miles away, since 11 August.