Girl loses out on attendance reward after going to mother's funeral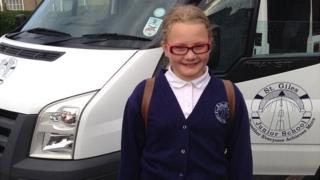 A school has apologised after a pupil was left out of a reward for 100% attendance because she had a day off for her mother's funeral.
St Giles' Junior School in Exhall gave Maddie Stevens permission for the absence then excluded her from an attendance reward trip to a restaurant.
The 11-year-old's father, Andy Stevens, said the school had effectively punished her for going to the funeral.
It has since withdrawn its 100% attendance reward policy.
The funeral of Maddie's mother was in January, but the attendance reward trip took place this week.
Mr Stevens said: "When my daughter's mum died she had one day off and that was the day of the funeral - she didn't have any other time off.
"She's been through so much in the last two years with her mum having breast cancer.
"They should have looked at this and used a bit of discretion."
He said he was too upset to speak to the school, but his wife called the office to confirm Maddie's only absence was for the funeral in January.
The school secretary apologised on the phone and offered a meeting with the head teacher, he said, but the family is still angry that no one apologised to Maddie.
Prof Ken Reid, education expert at Swansea Metropolitan University, said: "I'm sure the school did this completely accidentally but an awful lots of schools are feeling the pressure to minimise their rates of non-attendance.
"From last February, if schools fall below 96.5% attendance they could have a no-notice inspection. The consequences of failing a no-notice inspection can mean head teachers can lose their jobs and in some circumstances schools could even close."
St Giles' Junior School and Warwickshire Country Council declined to comment, but confirmed the 100% attendance reward scheme had been withdrawn.