Murder inquiry launched after man shot near Rugby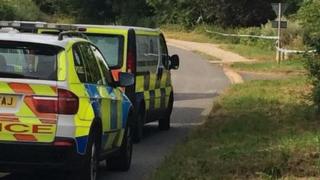 A murder investigation has been launched after a man was shot dead in a "targeted attack" near Rugby.
The man was found with gunshot wounds in an abandoned car in Newton Road, near Newton, at 11:45 BST, Warwickshire Police said.
The force said they believed the victim's car had been forced off the road and into a ditch. They said a shotgun was used in the attack.
Two arrests have been made and investigations are ongoing.
Two cars, one silver hatchback and a maroon-coloured car, were seen driving away towards the A5.
Newton Road was closed between Newton and the Newton Manor Lane crossroads.
The victim is thought to be a man in his 20s who lived in the area.