Appeal over WW1 medal found in Rugby shed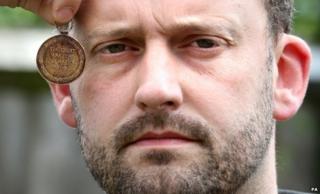 Two friends who found a World War One medal in an abandoned garden shed are hoping to trace relatives of its owner.
Graham Banks, 32, said it was discovered while he was helping Jennifer Ette, 30, take down her shed in Rugby, Warwickshire.
They now want to find out more about the man who the medal belonged to, E.W. Follows, of the Worcestershire Regiment.
He said if they could not find the family, they might give it to a museum.
Mr Banks, a 32-year-old barman, said: "It's almost like it's fate that it's reappeared in the year of the centenary (of the war starting).
"(Jennifer) has lived there for four years since she bought the house and has never set foot in the shed.
"Something I read said the way to tell the real ones (from replicas) is they have the name, rank and service number of the person, as well as their regiment.
"This had it. It belonged to E.W. Follows, of the Worcestershire Regiment, with his service number as well. That's when I got quite excited by it."
Family history website Ancestry.co.uk holds a record for Edward W Follows in its online collection of British Army First World War Medal Rolls Index Cards.