Daniel Pelka: Council drive to attract social workers branded 'exploitative'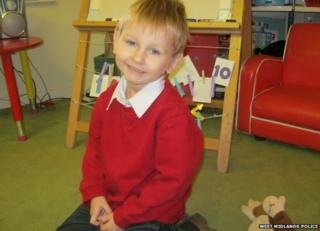 A recruitment campaign using the high-profile case of a dead child in a bid to attract social workers has been branded "exploitative".
Coventry City Council's Do It For Daniel campaign centres around Daniel Pelka, who was starved and beaten to death by his mother and her boyfriend.
The authority said the £40,000 campaign was "deliberately emotive" in order to stand out.
But critics have said the use of Daniel's name was in "bad taste".
Daniel's mother, Magdelena Luczak, and her partner, Mariusz Krezolek were jailed last year for his murder.
The council was criticised in a serious case review which found chances were missed to save the youngster.
It is investing £10m in children's services this year.
'Invisible child'
Coventry University lecturer Dr Josephine Kwali, a former social worker, said she felt the campaign was exploitative.
"Daniel was failed by a whole number of agencies," she said.
"I don't see any of the other professions using Daniel's name to recruit more doctors or teachers," she said.
But the campaign created the impression "social workers alone" were to blame for the failings in Daniel's case, she added.
Child abuse activist Nicci Astin said she felt the image of an empty swing on campaign posters echoed descriptions of him as an "invisible child" in official reports.
Ms Astin, who created the Justice for Daniel Pelka campaign group, said it was "wrong" that his face did not feature in the campaign.
"If it's all about Daniel then why is there not a picture of him?," she said.
Councillor Ed Ruane, the council's cabinet member for children's services, said: "Our campaign is deliberately emotive because we need it to stand out from the crowded social work job market and attract the best so we can improve what we do.
"We know this campaign will be controversial and people may accuse us of exploiting Daniel's memory. But the truth is that Daniel's tragic story drives everything we do."
The council currently has about 170 social workers in children's services on its payroll including 70 agency workers.