Coventry's Albany Theatre future 'uncertain'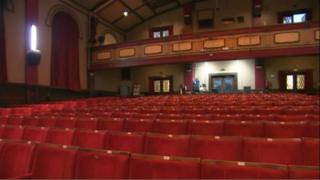 Trustees of a Coventry theatre fear it could be under threat of closure after the firm which owns its premises went into receivership.
The Albany Theatre is part of the Earlsdon Park development, controlled by Birmingham-based MCD (Coventry) Ltd.
Chair of trustees David Meredith said the firm's collapse meant the theatre's future was uncertain.
BNP Paribas, appointed as receivers for the site, said it was working with MCD's directors on a "smooth handover".
'Cultural jewel'
Ben Moon, from BNP, said: "The receivers are in the process of identifying all of the stakeholders to ensure their co-operation."
Earlsdon Park is also home to a Premier Inn and a 65,000 sq ft (6,039 sq m) office block occupied by the Qualifications and Curriculum Authority.
The terms of MCD's takeover of the site in 2008 included setting up a charitable trust to support the theatre.
Mr Meredith said he feared the section 106 agreement between Coventry City Council and MCD could now be threatened.
"If the receivers were to say 'we can't sell this land with the theatre there', that would maybe put pressure on the council to scrap the agreement," he said.
Mr Meredith said he hoped the receivers would help the theatre to secure a lease, which it had struggled to do with MCD.
Councillor Abdul Khan said the theatre was a "real jewel in our cultural crown" and promised council support to help the theatre secure its leasehold.
A team of 80 volunteers worked to restore the 650-seat Albany - formerly the Butts Theatre - to its previous condition after it closed in 2008.
MCD (Coventry) Ltd is a subsidiary of MCD Developments, which is based in Birmingham's Jewellery Quarter.
A meeting will be held on Thursday for creditors of MCD and 11 subsidiary companies.