New Coventry and Rugby free schools approved for 2015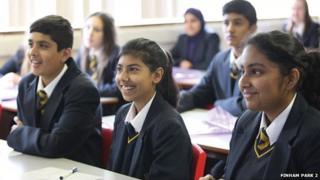 Two new free schools have been given approval in Coventry and Warwickshire.
Rugby Free Primary School and Finham Park 2, Coventry, are planning to open in September 2015.
Coventry City Council backed the application for Finham Park 2 after initially opposing any new school for the city that would be outside of the local authority's control.
It will be the first free school for Rugby and the third free school for Coventry.
Coventry's first free schools, Seva School and Eden Girls' School, opened in Wyken and Foleshill last month.
---
Free schools
Set up by parents, teachers, charities, businesses, universities, trusts or religious groups
Independent of local authorities and have increased control over their curriculum, teachers' pay and the length of school terms and days
Funded directly by central government and cannot make a profit
---
A new school site is planned to be built for Finham Park 2 in the south west of the city, between Charter Avenue and Broad Lane.
Rugby Free Primary School has no confirmed site yet but plans to open in north Rugby, with an eventual capacity of 420 pupils.